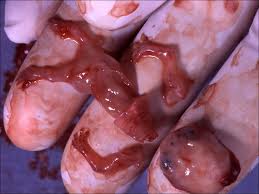 Arguments Against Abortion
1. Since life begins at conception, abortion is akin to murder as it is the act of taking human life. Abortion is in direct defiance of the commonly accepted idea of the sanctity of human life
2. No civilized society permits one human to intentionally harm or take the life of another human without punishment, and abortion is no different.
3. Adoption is a viable alternative to abortion and accomplishes the same result. And with 1.5 million American families wanting to adopt a child, there is no such thing as an unwanted child.
4. An abortion can result in medical complications later in life; the risk of ectopic pregnancies doubles, and the chance of a miscarriage and Pelvic Inflammatory Disease also increases.
5. In the instance of rape and incest, proper medical care can ensure that a woman will not get pregnant. Abortion punishes the unborn child who committed no crime; instead, it is the perpetrator who should be punished.
6. Abortion should not be used as another form of contraception.
7. For women who demand complete control of their body, control should include preventing the risk of unwanted pregnancy through the responsible use of contraception or, if that is not possible, through abstinence.
8. Many Americans who pay taxes are opposed to abortion, therefore it's morally wrong to use tax dollars to fund abortion.
9. Those who choose abortions are often minors or young women with insufficient life experience to understand fully what they are doing. Many have lifelong regrets afterwards.
10. Abortion frequently causes intense psychological pain and stress.
Abortion Pros and Cons -
Go to this link for ten "reasons" given by the Pro Abortion (Pro-Death) side of the issue and a truthful response that clearly shows that instead of supporting or justifying the killing of innocent life, these reasons, when truthfully presented, are 10 powerful arguments against abortion...just like the first list of ten. The pros are listed followed by the cons.
Pro Life Rights - Pro-Life Christians have the rights of Free Speech also. We have concerns. WAY FM
Jeremiah 1:5 Before I formed thee in the belly I knew thee; and before thou camest forth out of the womb I sanctified thee, and I ordained thee a prophet unto the nations.
Against Abortion bring you these weekly Christian history facts:
July 29, 1030:
Viking king Olaf Haraldsson, patron saint of Norway, dies in the battle of Stiklestad. Though limited in his ability to force his countrymen to convert during his reign, his death was later hailed as a miracle-filled martyrdom and, as his legend grew, it spurred on christiansd converting the country. In time, Olaf became one of the most well-known saints of medieval Christendom, and his relics in Norway became one of Europe's most popular pilgrimage destinations.

July 30, 1718:
William Penn, founder of Pennsylvania as a colony for Quakers to enjoy religious liberty, dies.

July 30, 1775:
The U.S. Army founds its chaplaincy, making it the Army's oldest division after the infantry.

July 31, 1966:
After John Lennon proclaims the Beatles to be "more popular than Jesus," residents of Alabama burn the band's records and other products.
Pregnant women should get adjusted by a Chiropractor to improve their and their baby's health.
Anti-Abortion Yard Signs
Return HOME Page Against Abortion