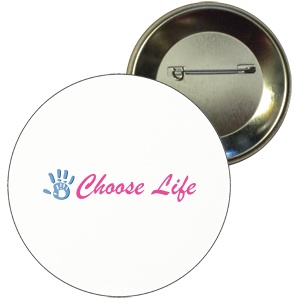 Pro Life Buttons
Pro life buttons send a message. Hundreds of people that you come across may someday be faced under pressure with difficult circumstances to make a pro life decision on an abortion. Your witness which is amplified by the pro life button message, will remind them of the moral obligation to choose life.
Pro Life Buttons
History of Advertising Political Campaign Buttons
Campaign Political Buttons
Political campaign buttons originate with George Washington. At his inauguration, Washington and his supporters wore a brass clothing button that said "G.W.-Long Live the President." When the ferrotype and tintype were invented, pictures could be used. These were surrounded by a metal frame with a hole punched in the top so a ribbon could be attached. These were worn on lapels.
Political Buttons cheap Custom made political buttons.
The first buttons that were used extensively for campaigning appeared in the 1896 presidential campaign between William McKinley and William Jennings Bryan. They were made by placing a thin piece of celluloid protective covering over paper and then wrapping it around a metal disk. Many colorful designs were created during the golden age (1896 - 1916) of campaign buttons. For the past 100 years, slogans, pictures, and names have been used to promote candidates and causes. While buttons are still produced, disposable stick-on badges are often used at rallies and political events, since they can be made cheaply and in very large quantities.
Use of Campaign Button Pins
Button pin campaign manufacturing had a burst of popularity that was spurred by the McKinley-Bryan presidential campaign as well as by manufacturers eager to advertise their products in a new and creative manner. During WWI, lithographed buttons (printed directly on tin) were invented in Chicago to promote war rationing campaigns.
Those who like decal stickers or lapel stickers also like advertising buttons, and campaign buttons. Promotional buttons are a personal campaign endorsement and help you dominate a campaign event. Campaign Buttons a
During the first part of the century, buttons became a popular and colorful way to promote products, politicians, celebrities, businesses, holidays, events, landmarks, slogans, cartoons, musicians and almost everything else, really. Buttons were loved by the public and businesses alike, because they made exciting, unique fashion accessories and weren't as heavy or uncomfortable as wearing a sandwich board. It was a less-jaded time, back when people weren't bombarded by advertising and information, and wearing a button was a small way for people to celebrate the commerce and vitality of the new American industrial age.