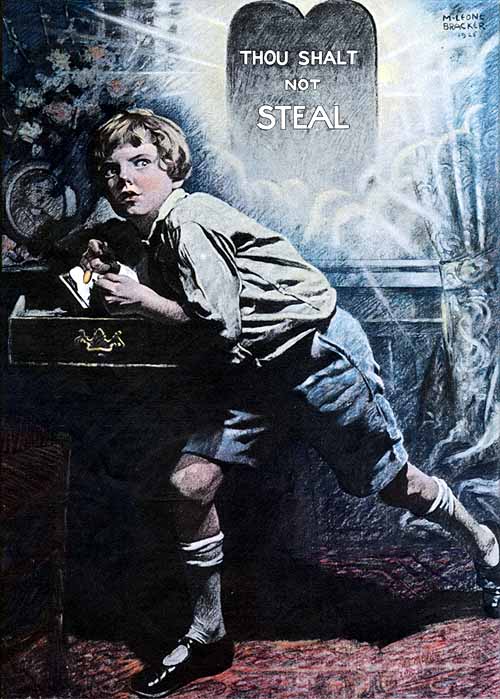 Thou Shalt Not Steal
Exodus 20:15 (King James)
15 Thou shalt not steal.
Both public and private sins are included in this prohibition. The eighth commandment condemns theft and robbery. It demands strict integrity in the minutest details of the affairs of life. It forbids overreaching in trade and requires the payment of just debts or wages. Solomon stated this truth when he wrote, "Do not withhold good from those to whom it is due, when it is in the power of your hand to do so" (Proverbs 3:27). This commandment declares that every attempt to advantage oneself by the ignorance, weakness, or misfortune of another is registered as fraud in the books of heaven. It requires us to practice the golden rule, always treating others the way we desire them to treat us. The eighth commandment requires honesty and fairness in all of our dealings.

Thou shalt not steal.
What does this mean?
Answer:
We should fear and love God that we may not take our neighbor's money or property, nor get them by false ware or dealing, but help him to improve and protect his property and business
[that his means are preserved and his condition is improved].
(Exodus 20:15 - Deuteronomy 5:19)
The pagans of the wicked world are filled with the lust of greed and think nothing of robbing, stealing, or cheating to get what they want. (How they got something is not important--that they DO have possession of it is all that counts in their book!) But, God's People are not to be that way (for theivery is of the Devil--John 10:10). And we are to respect the rights and priviliges given by God to certain people to hold securely the possessions, property, and rights that they do by God's Law.
Unfortunately, thievery is a major crime industry and there are many popular forms of stealing,
The Eighth Commandment safeguards everyone's right to legitimately
acquire and own property. God wants that right honoured and protected.
Can we steal from God?
The Bible helps us recognize yet another form of stealing. From the time of Abraham (Genesis 14:20) forward, the Bible shows examples of how God's faithful servants formally acknowledged who really owns everything being of course God. They faithfully gave Him one tenth of their increase. In the covenant God made with ancient Israel, a tenth of the people's increase was set aside for the priests to finance their spiritual service to the nation. Needless to say, this practice of tithing (meaning giving a tenth) never became popular with most people. It required faith that God would amply supply their needs if they were a giving people.
Matthew 26
28
 For this is my blood of the new testament, which is shed for many for the remission of sins.
29
 But I say unto you, I will not drink henceforth of this fruit of the vine, until that day when I drink it new with you in my Father's kingdom.
30
 And when they had sung an hymn, they went out into the mount of Olives.
31
 Then saith Jesus unto them, All ye shall be offended because of me this night: for it is written, I will smite the shepherd, and the sheep of the flock shall be scattered abroad.
32
 But after I am risen again, I will go before you into Galilee.
Deuteronomy 5
1 And Moses called all Israel, and said to them: "Hear, O Israel, the statutes and judgments which I speak in your hearing today, that you may learn them and be careful to observe them.
2 The Lord our God made a covenant with us in Horeb.
3 The Lord did not make this covenant with our fathers, but with us, those who are here today, all of us who are alive.
Return HOME Page Against Abortion