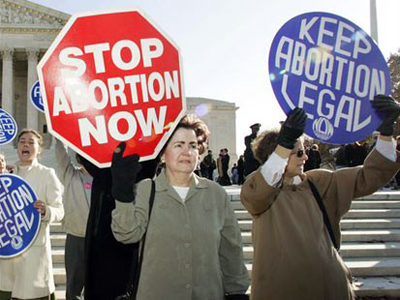 Pro Life Pro and Con Arguments
Pro Life Pro and Con Abortion
To say that someone is "pro-life" is to say that the person believes that the government has an obligation to preserve all human life, regardless of intent, viability, or quality-of-life concerns.
To be pro or con on pro life, means that you are pro against abortion.
Pro Choice Arguments Con
Pro-choice advocates argue that whether or not to continue with a pregnancy is an inviolable personal choice, as it involves a woman's body, personal health, and future. They believe that both parents' and children's lives are better when abortions are legal, thus preventing women from going to desperate lengths to obtain illegal abortions. More broadly, pro-choice advocates frame their beliefs in terms of individual liberty, reproductive freedom, and reproductive rights. The first of these terms was widely used to describe many of the political movements of the 19th and 20th centuries (such as in the abolition of slavery in Europe and the United States, and in the spread of popular democracy) whereas the latter terms derive from changing perspectives on sexual freedom and bodily integrity.
Pro-choice individuals rarely consider or present arguments that they themselves are "pro-abortion," because they consider abortion an issue of bodily autonomy, and find forced abortion to be as legally and morally indefensible as the outlawing of abortion. Indeed, some who are pro-choice consider themselves opposed to some or all abortions on a moral basis, but believe that abortions would happen in any case and that legal abortion under medically controlled conditions is preferable to illegal back-alley abortion without proper medical supervision. Thus they present the argument that they are pro choice, and take the con side.
To be "pro-choice" on abortion is to believe that individuals have unlimited autonomy with respect to their own reproductive systems as long as they do not breach the autonomy of others.
Pro Life Pro Arguments
The below are commonly asked questions from High School Students concerning pro life arguments:
Do you oppose or support abortion? Thank you for asking... I oppose every abortion because it kills a real baby. Why do you support or oppose abortion? The painful truth of abortion is overwhelming..God's view of the innocent and his requirement that we protect them..The commandment that, "thou shall not kill also applies to babies in the womb...From the moment of conception a baby is formed...Our natural instinct is to protect them...The shocking details we find on the internet of "graphic abortion pictures" shows that they are real babies..Read more about the details of abortion and when as you become more informed you see that all abortion is wrong..The Life Dynamics website is a good place to start, which you can google and find..Also the "Silent Scream" website shows a sonogram of an 11 week developed baby being aborted that was trying to scream as it was being aborted. That doctor quit doing abortions after seeing this.. I read in books that Abortion can make woman ill, such as, there body can't take it. What is your opinion on that? It is a fact that abortions have killed several hundred women..You can find this and other information on our friend, Mark Crutcher's website, "Life Dynamics." This is a good website where you can find a lot more details on the horror of abortion..In my wife's and my counseling of young women not to have abortions, we know of one who was injured so badly she nearly died from her uterus being punctured and her colon being severed in half and she ended up permanently on a colostomy bag..This is fairly common..Many times a woman is damaged and cannot have more children. Do you believe adoption is a better choice them abortion? Why? Adoption is always a better choice, because there are many loving couples who want children, but cannot have children..Proper screening by state agencies verify that they will be good parents...By the way, there is a waiting list of many couples who want to adopt. Does Religion effect woman's choice? It is not so much a matter of religion as it is that abortion is wrong in God's eyes and until fairly recently abortion was universally illegal, from the beginning of time until 1972 when the US Supreme Court violated God's Law and attempted to legalize abortion. Abortion is never "legal" in God's eyes..If you research your state's laws on abortion you will find that abortion was once illegal in California..The baby in the womb has its own genetic makeup and is hosted there by the woman and has to be nurtured. Are there any emotional damages from abortion? Almost always a women regrets her abortion and suffers regret the rest of her life..Abortion is an unnatural evil act...Look up the great organization, "Silent No More," an organization of women who regret their mistakes. Is there any other facts that you think I should know about abortion? You are off to a good start and sound like a good person...I suggest you continue to read and pray to learn more...Most of all I hope that you will keep learning about God and how He loved us so much that he would send his son, Jesus Christ to die to pay for our sins...When we seek him and ask him, He will forgive us of all our sins...I hope you can go to church on a regular basis. In your life you will come into contact with young women who have had abortions and who are suffering grief and regret...You can help them by letting them know that God still loves them and will forgive them if they ask and accept his forgiveness through his Son, Jesus Christ, who loved us for much that He would die on a cross to pay for our sins...God Written by: James Henderson, Emmanuel Ministries, Decatur, Alabama
Pro Choice:

There is a Constitutional right to abortion.

Pro Life Response:

Abortion is not referenced at all in the U.S. Constitution. Roe vs Wade was not a judicial decision as much as legislation imposed from the Bench.
Can you define or provide an accurate definition of abortion? The definition should include moral values and should avoid political correctness, but include consistent history in defining the definition.
Definition of Abortion
Pennsylvania Pro Life Candidates Voting Guide Texas 2012
North Carolina Pro Life Candidates Voter Guide Indiana 2012 Washington Virginia
New Jersey Conservative Pro Life Candidates Missouri Maine
California Pro Life Candidates Right to Life Candidates Arizona Connecticut Florida
Pro Life Candidates Right to Life Candidates New York
Michigan Pro Life Candidates 2012 Texas Delaware
New York Pro Life Candidates 2012 Massachusetts Delaware Wisconsin