Is the Holy Bible Pro Life?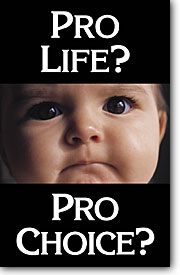 Pro Life Bible Quotations
The image of God! This is what it means to be human! We are not just a bunch of cells randomly thrown together by some impersonal forces. But rather, we really reflect an eternal God who knew us from before we were made, and purposely called us into being.
At the heart of the abortion tragedy is the question raised in the Psalms: "Lord, what is man that you care for him, mortal man that you keep him in mind? . . . With glory and honor you crowned him, giving him power over the works of your hands" (Psalm 8:5-7).
There is the key. Not only did God make us, but He values us. The Bible tells us of a God who is madly in love with us, so much so that He became one of us and even died for us while we were still offending Him (see Romans 5:6-8). In the face of all this, can we say that human beings are disposable, like a car that becomes more trouble than it is worth? "God doesn't make junk." If you believe the Bible, you have to believe that human life is sacred, more sacred than we have ever imagined!
Does the Bible teach pro life quotes?
God commanded our first parents to be "Be fertile and multiply" (Genesis 1:28). Why? God Himself is fertile. Love always overflows into life. When the first mother brought forth the first child, she exclaimed, "I have brought forth a man with the
help of the Lord
" (Genesis 4:1). The help of the Lord is essential, for He has dominion over human life and is its origin. Parents cooperate with God in bringing forth life. Because this whole process is under God's dominion, it is sinful to interrupt it. The prophet Amos condemns the Ammonites "because they ripped open expectant mothers in Gilead" (Amos 1:13).
"Truly children are a gift from the Lord; the fruit of the womb is a reward" (Psalm 127:3).
Does the Bible teach against abortion?
The phrase "conceived and bore" is used repeatedly (see Genesis 4:1,17) and the individual has the same identity before as after birth. "In sin my mother conceived me," the repentant psalmist says in Psalm 51:7. The same word is used for the child before and after birth (Brephos, that is, "infant," is used in Luke 1:41 and Luke 18:15.)
God knows the preborn child. "You knit me in my mother's womb . . . nor was my frame unknown to you when I was made in secret" (Psalm 139:13,15). God also helps and calls the preborn child. "You have been my guide since I was first formed . . . from my mother's womb you are my God" (Psalm 22:10-11). "God… from my mother's womb had set me apart and called me through his grace" (St. Paul to the Galatians 1:15).
Abortion Biblical Verses on Abortion
Pro Life Scripture Verses on Abortion
Bible Quotes about Abortion
Bible Study on Abortion
What the Bible Says about Abortion